Benefits Category
Extra Rewards
Theft and Arson Reward Service
provided by
Theft and Arson Reward Service
Theft and Arson Reward - $1,000
"A reward is offered to the person or divided among the persons who furnish information leading to the arrest and conviction of a person or persons who steal, willfully destroy, intentionally burn, or attempt an incendiary act to property owned by a Farm Bureau member.
The reward for information on property stolen or willfully destroyed can be up to the value of the property stolen or destroyed but in no event more than $1,000.  The reward for information on arson or an attempted incendiary act shall be $1,000.
No-Cost Accidental Death Insurance
provided by
No-Cost Accidental Death Insurance
No-cost Accidental Death Insurance
Another service provided by Farm Bureau membership is an accidental death insurance policy for the member, spouse and unmarried children younger than 22 years and living at home. The maximum amount of the policy is up to $2,000 for the member and spouse, and $1,000 for the children.
Exceptions to the Accidental Death Coverage
Accidental death coverage does not cover:
1. Accidents involving motor vehicles on public roads or highways;
2. Suicides;
3. War, riots or insurrections;
4. Illness, disease or treatment of such;
5. Harm while committing an assault or felony; and
6. Food poisoning, bacterial poisoning or infections.
Voice of Agriculture
provided by
Voice of Agriculture
A FREE subscription to Minnesota Farm Bureau Federation's newspaper sent every other month that includes legislative updates, feature stories, health and wellness tips and various other articles pertaining to agricultural and rural Minnesota.
Available as an online eReader or as a downloadable PDF at fbmn.org/voice-of-ag. Please send your current email to info@fbmn.org.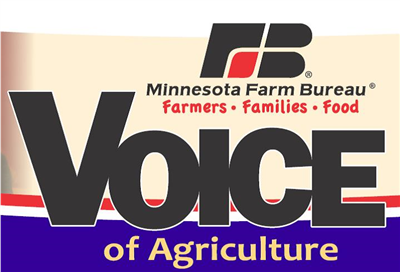 Farm Bureau Direct Marketer
provided by
Farm Bureau Direct Marketer
The "Farm Fresh" directory is a way for Farm Bureau members to sell their fresh, processed or value-added agricultural products to consumers. It is published each year in the May edition of The Voice of Agriculture and distributed to nearly 30,000 Farm Bureau member families in Minnesota.
 
Farm Fresh categories include, but are not limited to trees, dairy products, eggs, farm tours, fruits, vegetables, popcorn, wool and wool products, wine, fresh cut flowers and meat products. Note: Farm Fresh will not include listings of livestock or breeding stock.
This is free of charge as a Farm Bureau member benefit.
To promote your direct marketer business and products to thousands of Farm Bureau members around Minnesota, you must first be a member. Join Online. Then, contact Minnesota Farm Bureau, 651-768-2100.
For a complete listing of current marketers, please visit fbmn.org.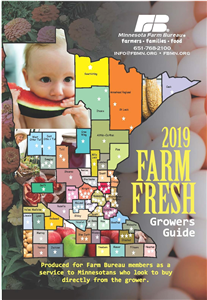 FB Benefits Mobile App
provided by
Mobile App
Maximize Your Farm Bureau Membership Benefits
New smartphone app helps members take advantage of special discounts

Your Farm Bureau membership just got better! The new Farm Bureau Member Benefits App gives you access to member discounts and special offers right in your pocket.

Available for free on both Apple and Android devices, the free Farm Bureau Member Benefits App includes alphabetical and categorical listings of member benefits available in Minnesota. It also features a convenient mapping feature to help you identify member benefits near you at any time.

Farm Bureau members receive benefits at dozens of national retailers, restaurants, health and wellness companies, and local attractions. Members also have special access to home, auto, farm/ranch, and life insurance tailored to fit their unique needs through Farm Bureau Financial Services. 

Download the app today and get the most from your Farm Bureau membership!